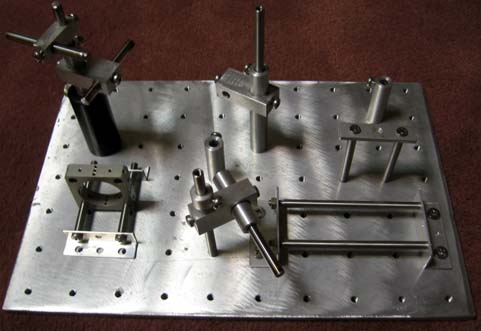 MiniMount
Bench Plates -- Mounting Posts --Post Lock Ring -- Post Holders --Right Angle Connectors --Flat and Angle connectors--English/Metric Adapter--MiniMount Kits

We are introducing new and unique series of mounting hardware that is specially designed for biophysical or electrophysiological application. These parts are durable, lightweight and compact. The whole series is build around 6 mm diameter stainless steel mounting rods and 6 mm thick, 30 mm square pattern bench plates. It can be combined with widely used British standard of opto-mechanical components and with precision 6 mm based optical bench parts from Spindler & Hoyer. Unlike the typical optomechanical hardware that have nonconductive black anodized surface, all our components have bare metal surface that ensure easy electrical interconnection. Electrical resistance between connected non anodized aluminum parts is very low. This make our components perfect for use in systems for sensitive electrical measurements. You do not have to drill extra holes or remove oxide layer from parts of a complex system to have them electrically connected. We guaranty that when parts are connected mechanically, they are connected electrically. If you need black non-reflecting surfaces simply apply spray enamel were needed.




---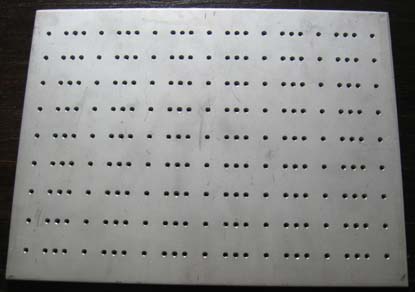 Bench Plates.
Manufactured from solid aluminum our Bench Plates provide base for various configuration of components. Each plate have a number of M5 threaded holes on a square pattern with 30+/-1 mm distance between centers. BP6-3040A Bench Plate shown here has extra holes for more flexibility in component placement. Currently two standard sizes are available but other can be manufactured at your request.






| | | | | |
| --- | --- | --- | --- | --- |
| Part # | Length, cm | Width, cm | Thickness, mm | # of holes |
| BP6-2030 | 30 | 20 | 6 | 70 |
| BP6-3040 | 40 | 30 | 6 | 117 |
| BP6-3040A | 40 | 30 | 6 | 216 |
---

Mounting Posts.
These 6 mm diameter, lightweight but durable stainless steel posts mounts directly, or with Post Holder to our BP-XX bench plates. T-indexed posts have M5 male thread at one end and M4 threaded hole on another.

| | |
| --- | --- |
| Part # | Length (mm) |
| MP6-60 | 60 |
| MP6-100 | 100 |
| MP6-60T | 60 |
| MP6-100T | 100 |
---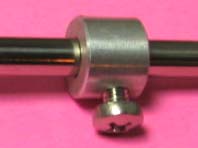 Post Lock Ring
This 12.7 mm (0.5") diameter aluminum lock ring fits 6mm diameter mounting posts. When ring is locked, the post can be rotated in the post holder without readjusting height. M4 screw is included.
Part #: PLR-6



---

.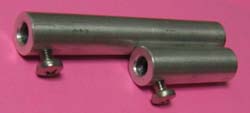 Post Holders
These aluminum post holders accept 6 mm diameter mounting posts. Since they have 12.7 mm (0.5") outside diameter, this post holders fit inside British standard post holders increasing possibilities for the design of complex systems. Lock screw for post height adjustment and Allen screw for mounting to an optical plate are included.
Part # PH6-40 (40 mm long); PH6-80(80mm long)




---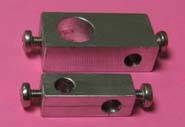 Right Angle Connectors
These connectors are used for 90 degree connection of Mounting Posts. Two versions are available. RAC6-6 connect two 6 mm diameter posts, and RAC6-12 connect 6 mm and to 0.5" (12.7 mm) post or to our PH6-XX post holders. Screws are included. Aluminum.
Part#: RAC6-6 and RAC6-12.


---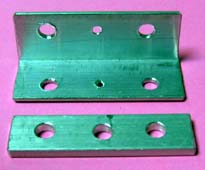 Flat and Angle connectors.
These simple but useful parts complement our line of MiniMounts. Each FC-66 connector is 50x12 mm rectangle with a pair of 5 mm diameter holes, 30 mm apart and 3 mm marker hole in the middle that can be easily drilled to a larger size if requred for specific applications. AC-66 connector has similar holes pattern on a 40x20x20 mm aluminum angle. Can be used for connection or horizontal installation of MP6-XT posts.


---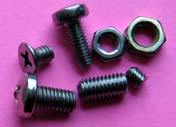 Hardware Kit
If you need more metric hardware than included with MiniMount components listed above you can add an extra hardware kit to your order. HK-10 kit includes 10 each of: M5x6mm Pan Head Screw; M5x10mm Set Screw; M4x6mm Pan Head Screw; M4x6mm Flat Head Screw; M4x4 mm Set Screw; M4 and M5 hex nuts.
For other hardware components please visit MiscHardware page.

---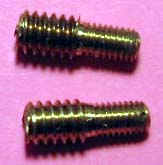 English/Metric Adapters

Using these adapters you can connect MiniMount components with English standard parts. Screws shown above left has 1/4-20 tpi thread at one side and M5 thread on the other side. They allow mounting of MiniMount post holders on any English standard bench plates or mounting of English standard posts/post holders on our BP6-XXXX bench plates. Part #: EMS-1 Adapters shown in the center of the left picture are 12.5 mm diameter, 15 mm long cylinders with 1/4-20 tpi threaded hole at one side and M5 hole on the other side. They can be used for mounting of 0.5" posts to BP6-XXXX bench plates ot MP6-XXX posts to English bench plates. Part #: EMA-1

---
MiniMount Kits

| | | | | |
| --- | --- | --- | --- | --- |
| ITEM | DESCRIPTION | MMK-1 | MMK-2 | MMK-3 |
| PLR-6 | Post Lock Ring | 1 | 3 | 6 |
| PH-40 | 40 mm Post Holder | 1 | 4 | 8 |
| PH-80 | 80 mm Post Holder | 1 | 4 | 8 |
| MP-60 | 60 mm Mounting Post | 1 | 4 | 10 |
| MP-60T | 60 mm Mounting Post Threaded | 1 | 3 | 6 |
| MP-100 | 100 mm Mounting Post | 1 | 4 | 10 |
| MP-100T | 100 mm Mounting Post Threaded | 1 | 3 | 6 |
| RAC-66 | Right Angle Connector for 6 mm Rods | 1 | 4 | 10 |
| RAC-613 | Right Angle Connector for 6/12.7 mm Rods | 1 | 3 | 6 |
| FC-66 | Flat Connector | 1 | 2 | 6 |
| AC-66 | Angle Connector | 1 | 2 | 6 |
| HK-10 | Hardware Kit | - | 1 | 2 |
| EMS-1 | English/Metric Adapters | - | 1 | 3 |
| EMA-1 | English/Metric Adapters | - | 1 | 3 |
---
Date of latest modification: 1-28-2019