NEW PRODUCTS !
---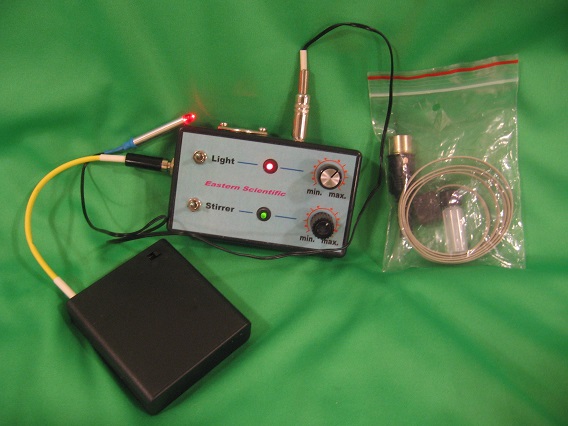 MS-24 lighting/stirring unit for BLM rigs combines battery powered magnetic stirrer and LED light source. It is designed for placement inside of Faraday cage, thus eliminating not only all external sources of electromagnetic interference that may enter cage trough outside wires but also noises associated with AC plugged power supply. It includes: lighting/stirring controller, power supply module, RH-12M stirrer motor, and red LED light source. With an optional mounting bracket and an extra faceplate the controller could be attached to one of Faraday cage walls, with switches and potentiometers accessible from outside. One set of an average AA batteries is sufficient for about eight hours of stirring or 50 hours of BLM illumination.
---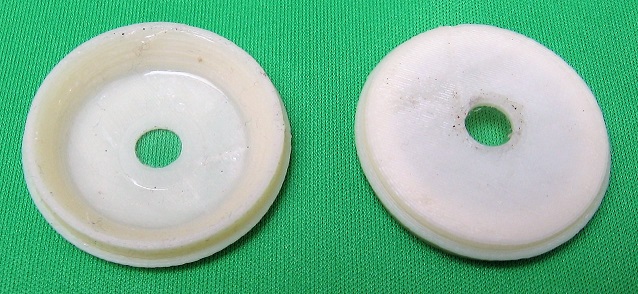 MD-1C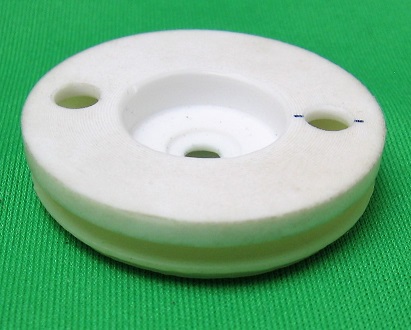 MD-1C mini dish for BCH-1 horizontal BLM chamber is similar to MD-1 but has smaller (D8 mm) glass window that is less prone for breaking than 25 mm diameter glass in a standard BCH-1.
Dish body is printed from ABC plastic and coated with chemically inert silicone rubber polymer. The full circle support edge provide better stability when assembled cell is installed into a holder.
---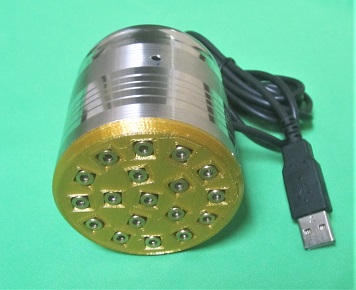 LT-18A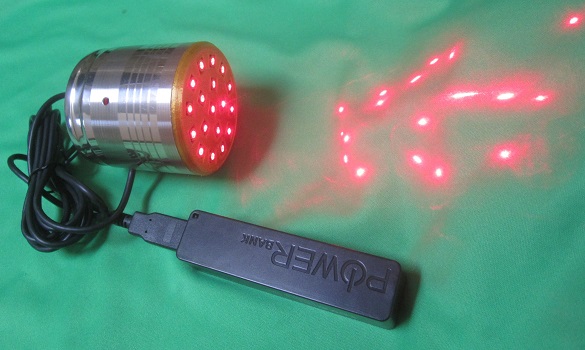 LT-18A is an improved version of recently introduced LT-18 model. The main difference between those is forced air cooling of lasers with integrated micro fan that ensure maximum light output even after prolonged usage. (An additional benefit is a pleasant, jentle flow of warm air over treated area.) It is a handheld USB powered device with 18 lasers that will work with any power source that has standard USB port: desktop or notebook computers, phone chargers or power banks. It is also compatible with LIT-1220A multifunction controller. All you need is to plug it into a familiar USB port on any of your devices and it will work as long as you need. If you prefer to use it autonomously, just add AC adapter or power bank to your order.
Specifications:
Number of laser modules

18

Peak wave length

650 nm

Laser output power *

(Max. total)

90 mW

Weight

150g (5 ounces)

Dimensions

(approx.)

D - 6 cm, h- 6 cm

(2.5" x 3-1/4")
*- We do not have equipment to measure laser power output but use manufacturer's provided data.
---
LIT-1220A
LIT-1220A is AC powered machine that allow you to forget about batteries charging or replacement. It is similar to earlier LIT-820 model but has more lasers, improved design and easier to operate. It consists of a table top control unit and remote head that has twelve red laser modules and quartz lamp for infra-red (IR) heat treatment. Control unit allows an independent selection of optimal treatment parameters for IR and Laser light. Lasers can be set to work continuously at maximum power or to pulsed mode with variable pulse frequency. In pulsed mode, average laser power is lower than in continuous but much higher during the pulse, providing deeper penetration of light into tissue. Pulse frequency is variable and lays within the physiologically responsive range as described in literature. Laser light treatment can be combined with IR. IR lamp has variable power output in continuous or in two low frequency pulsed modes. Detachable ten-inch-long handle is included for more convenient treatment of hard to reach body parts (back, foot). Also included is a miniature single laser unit (5 mW) for spot treatment of lips (herpes+), ear (tinnitus+) or other conditions that may require a compact probe to access treatment area. In addition, recently introduced "A" modification is capable to work with optional lasers only LT-18 or IR lamp only IR-50 heads. Those heads have 50% more laser power and two times more heat power compared to the standard combo head.
To see a short video demonstration please visit: https://www.facebook.com/EastSci/videos/835447626526457/
Specifications:
Number of laser modules

12 (Standard combo head)

Peak wave length

650 nm

Laser output power*

(Max. total)

With Standard Head - 60 mW - Continuous mode

45 mW - average, 120 mW peak in pulsed mode.

With LT-18 Head - 90 mW - Continuous mode;

68 mW - average, 180 mW peak in pulsed mode.

Laser pulsed mode frequency range
6-30 Hz
IR Lamp power.

With Standard Head - 1-15 W - in Continuous mode

1-13 W - average, 15 W peak in pulsed mode

With IR-50 Head - 2-30 W - in Continuous mode

2-25 W - average, 30 W peak in pulsed mode

IR Pulsed mode frequencies
1 & 2 Hz

Weight

0.7 kg (1.5 lb)

Dimensions

(approx.)

22 cm x 20 cm x 6 cm

(9" x 8" x 2")
---
For prices please use links provided at the end of regular product pages.
---
* Due to small volume production and continuous improvement of our products dimensions and some nonessential parameters may slightly differ from stated here.
NewProducts.html 7-5-2021