Miscellaneous Products
Mini-Rocker, 6 to 1 Valve --Tabletop Refrigerator-- Ultrasonic Cleaner -- Digital Multimeter
Electronic thermometer --Custom Made Cable Assemblies.
---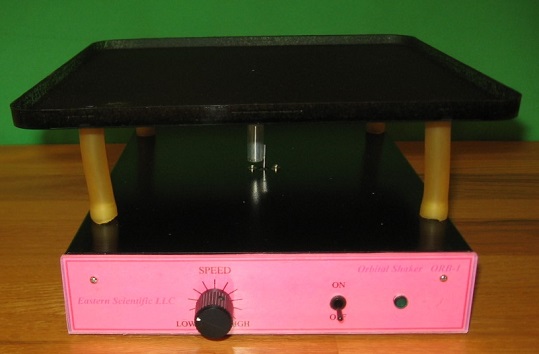 ORB-1 Orbital Shaker is designed for a wide range of applications, including gel staining/de-staining, cell cultures and general mixing. It provide reproducible motion that is evenly distributed through the platform's entire surface. Shaker has relatively small bench footprint but tray is still sufficient for most gel staining application or for up to four 100 mm diameter Petri dishes. Tray is covered with a nonskid rubber coating that prevent load from shifting. While, in most cases ORB-1, can do same job as much more expensive units, you do not have to drain one-three thousands from the lab budget, price for this unit is set to just under $200.* To see video of how it work, please visit https://www.facebook.com/EastSci.
Specifications:
| | |
| --- | --- |
| Speed | 80-400 rpm** |
| Orbit Size | 11 mm (~1/2") |
| Maximum Load | 1 kg (2.2 lb) |
| Power | AC 120-240V, <3 Watt |
| Dimensions w. out platform | 27 cm x 20 cm x 5 cm; ( 10.5" x 8" x 2") |
| Platform Dimensions | 24x24 cm; (9.5" x 9.5") |
| Weight | 1.8 kg (4 lb) |
*- Special discount price for new product. Will last as long as you see it marked "New", usually 1-3 month from the date of initial release.
** - with optimal load ~200-300g.
---
Mini-Rocker
This Mini-Rocker features maintenance-free electromagnetic drive system. An absence of moving parts other than rocking platform itself greatly increases reliability and reduces noise typical for many motor-driven units. Small size fit the most crowded lab bench. Shaking frequency is continuously adjustable and the amplitude can be set to high or low. Includes 115x80x30 mm (4.5"x3"x1.2") bath for gel staining. Powered from 120V AC/DC wall transformer (included) and have less than 2 Watt power consumption*. If necessary can work many hours from 6 C size batteries or from 12V car battery so you can stain your gel while driving to work :-)
Part # MR-1
*- Due to low unit power, shaking efficiency depends on load size and require caring about even distribution of load over the rocker platform.

SPECIFICATIONS:
Shaking frequency: 0.5-10 Hz
Platform dimensions: 115x80 mm (4.5"x3")
Overall Dimensions: 130x90x60 mm (5"x3.5"x2.5")
Maximum Load: 100 g
Power: 12V DC wall transformer.
---
6 to 1 Valve
This valve is designed for low pressure liquid/gas flow control and have 6 inlets that can be selectively connected to a single outlet. Valve body is milled from Caprolon (analog of Delrin), material resistant to many organic solvents, non-oxidizing acids or alkaline solutions. Central, revolving part (switch) is made from Teflon and lubricated with silicone vacuum grease for complete air tightness. Inlets and outlet has 10-32 (metric = M5) thread and can be equipped with either barbed tubing connector, as shown above, or closed with plug. Nylon tubing connectors for 1.5 mm (1/16") I.D. tubes (part # NTC-516) and plugs (part # NVP-500) have rubber O-rings for air tight sealing. By ordering right number of tube connectors and plugs (not included with valve) you can customize valve from 2 / 1 to 6 / 1 positions switch. Each valve has two M4 mounting holes on front and rear sides (mounting screws included).
Part # V-61
Specifications:
Guaranteed no leak pressure >30 cm H20
Inlet Thread M5 (10-32)
Internal apertures (d) 2 mm
Dimensions (d x h) 32 x 24 mm
---
Why run to the refrigerator every time when you need a new sample? You can have all samples next to your workplace with this compact thermoelectric refrigerator. We have a bunch of those, some with light signs of previous usage but all clean, tested to function properly, and covered by our standard 18 month warranty. Cool interior from 20C room temperature to zero in about 20 min.
Part # TR-1248
SPECIFICATIONS:
Cooling power: 20 C (~33 F) below room temperature
Dimensions
Outside 20x20x37 cm (8" x 8" x 14")
Inside 14x14x25 cm (5.5"x5.5"x10")
Power supply 7x9x13 cm (2.5" x 3.5" x 5")
Power ~50 VA from 120V AC to 12V DC transformer (included).
---
Ultrasonic Cleaner

This Ultrasonic Cleaner is compact, reliable and can do cleaning job as well as more expensive devices. We recommend it for cleaning heavily contaminated BLM chambers, teflon partitions, and other small parts that need cleaning on hard to access surfaces. While we did not test cleaner ability to make liposomes, they might be suitable for basic lipid re-suspension, which is a part of several vesicle preparation techniques. UC-1A require 120V AC , UC-1E is for 220 V AC.

SPECIFICATIONS

| | | | | |
| --- | --- | --- | --- | --- |
| | Power, VA | Frequency, kHz | Tank Size, ml | Dimensions, cm |
| UC-1A|E | 35 | 42 | 600 | 20x13x14 |
---
Digital Multimeter*
This multimeter is useful for testing and measurements of voltages, currents or resistances in the lab or at home. It can be used as a digital display for FLS-1 Liposome Detector or with BBA-01/02 BLM amplifiers. Parameters depend on current model availability but minimum specification is: 3-1/2 digit display; following ranges 200 mV-600V AC/DC voltage; 20 uA-20 A AC/DC current; 200 Ohm - 20 MOhm resistance.
Part # DM-312
* - Appearance may differ from shown depending on currently available model.

---
Electronic thermometer *

Part # ET-1
Specifications: Accuracy- +/-1oC; Resolution -0.1oC; Sampling cycle - 3 s; Power - AAA Battery; oC/oF switchable
* - Appearance may differ from shown depending on currently available model.
---
Custom Made Cable Assemblies
Did you ever assemble long coaxial cable from several standard 2 and 3 feet pieces? Or attempted to find place for a long, unflexible cable used to connect devices just 10 cm apart? If the answer is yes, you can easily understand an advantage of custom made cables of the required length. We are offering three types of cable assemblies of any length from 4" (10 cm) to 34 feet (10 m). All assemblies have male connectors on both ends of high quality, flexible, multiconductor wire 2.5-3 mm O.D. Coaxial BNC cable assemblies are available in two versions: Standard (BNC-XXX), and color coded (BNC-CC-XXX). BNC-CC cables (similar to shown in the picture above) are manufactured with assorted matching color markers on both ends for easy finding of the right cable in a multicable bundle. Eight or more color combinations are available.

| | | |
| --- | --- | --- |
| Part number | Connector Type | Wire Type |
| BNC-XXX | BNC | RG-174U, coaxial. |
| BNC-CC-XXX | BNC | RG-174U, coaxial. |
| SBB-XXX | "Banana" 1/8" (3mm) Dia. | Lead wire, black. 18 AWG |
| SBR-XXX | "Banana" 1/8" (3mm) Dia. | Lead wire, red. 18 AWG |
| TB-XXX | "Banana" 1/8" (3mm) Dia. | Twin, vinyl coated. 18 AWG |
| BAB-3 | BNC to Banana Adapter | RG, coaxial. |
XXX stays for the length in feet (1 lf = 30 cm). Examples: SBB-3.5; BNC-12; TB-6 etc.

---
MiscProd.html 2-21-15