Temperature Controllers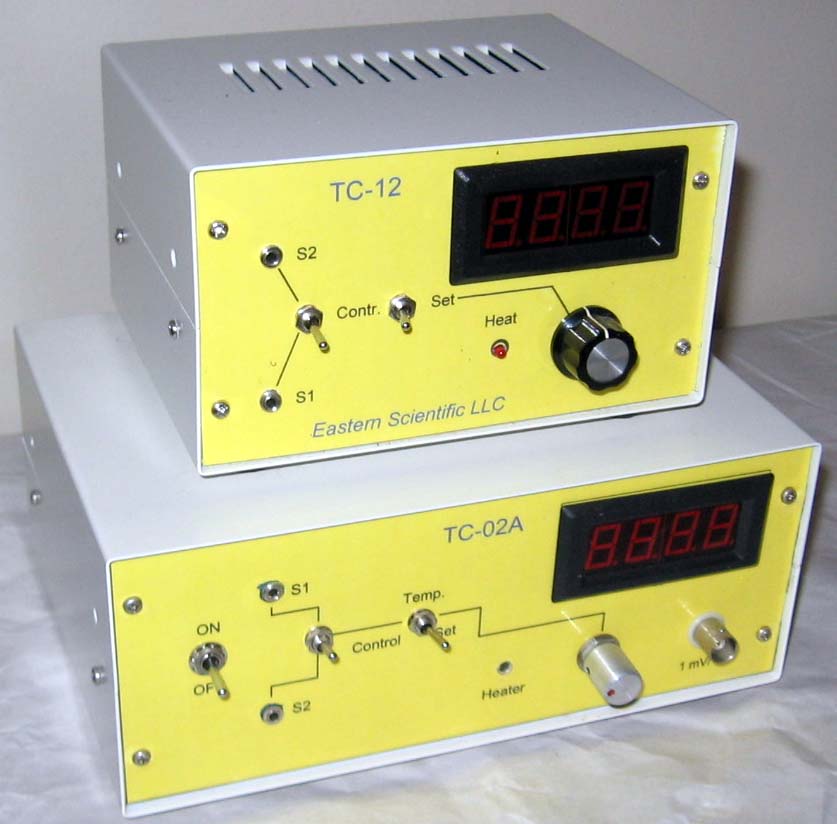 Our Temperature Controllers are designed to work with different heating elements and a variety of optional accessories including a simple Heater Assemblies, Dry Bath, BLM Cell Holder and Extruder Warmer. Two modifications are available. TC-02A can be connected to high power AC heaters (lamps, heater fans, water immersed heaters etc.) for large volume heating, or to compact heater assemblies for temperature control of fluorometer cells, or microscope stages. TC-12 version is similar but smaller and have lower power, no AC and no recorder output. Each unit comes with one temperature sensors attached to 3 feet (90 cm) cables. Second sensor assembly (Part # AD592) is optonal and need to be purchased separately.

SPECIFICATIONS
TC-12
TC-02A
Temperature setting range, oC
20-80
20-80
Temperature measurements range, oC
-10 to +100
-10 to +100
Resolution, oC
0.1
0.1
Accuracy, oC
+/-1
+/-1
Recorder output
No
BNC, 1 mV/oC
Number of sensor inputs
2
2
Sensor dimensions LxD (mm)
4x5
4x5
Controller dimensions, HxWxL (sm.)
9x16x12 (3.5"x6"x5")
9x21x15 (3.5"x8"x6")
Output power
(2.1/5.5 mm DC connector; standard AC socket)
12W, 24V DC
24W, 24V DC ;
300W, 120V AC
---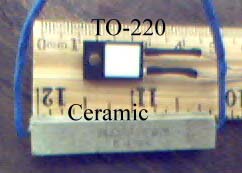 HA series heater assemblies are simply power resistors with ceramic or TO type body attached to 4 feet (120 cm) cable with 2.1/5.5 mm connector that match TC-12/TC-02A output. Heated surfaces are electrically non conductive and can be mounted directly to metal surfaces using enclosed hardware. Ceramic heaters can be used at maximum power without heat sink (but with sufficient air cooling) and good for temperatures up to +150oC. TO-XXX heating elements are compact and easy to mount with a single screw but need a good contact with metal heat sink (use of silicone heat sink compound is recommended). They can be irreversibly heat damaged if used unmounted. It is not recommended to use them for heating to temperatures above +80oC.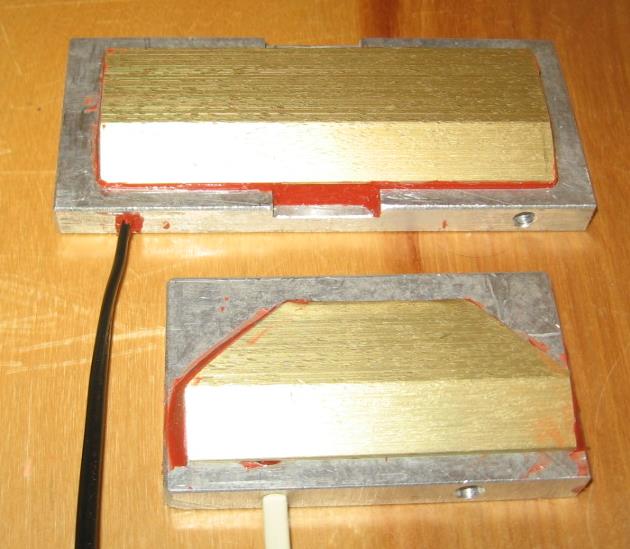 HB series heaters are designed for easy mounting on our or other aluminum bench plates in order to provide stable, elevated temperature to different experimental rigs assembled on those plates. We tested both with FC-30A (aluminum) Faraday cage and found that HB-12 is capable to rise temperature by about 10 oC, while for HB-25 temperature increase was 15 oC.
HB-12 has 6-32 threaded hole in the base and mounts with a single screw. HB-25 is larger and require two mounting screws. It has a pattern of six 6-32 threaded holes that fit square pattern of holes in most standard bench plates: 1", 25 mm and 30 mm. Both heaters have 5 mm diameter, 15 mm deep hole for temperature sensor and 4 feet (120 cm) cable with 2.1/5.5 mm connector.
Specifications:
Part #

Peak power with
TC-12 or TC-02A
(Watt)

Max mean power (Watt)

Resistance (Ohm)

Body Size (mm)

Construction

HA-5

6

5

100

10x10x23

Ceramic

HA-15M

6

15

100

8x11x3

TO-126

HA-10

12

10

50

10x10x50

Ceramic

HA-30M

12

30

50

10x16x3

TO-220

HA-20

23

20

25

10x10x50

Twin Ceramic

HA-60M

23

60

25

10x16x3

Twin TO-220

HB-12

12

12

50

80x45x15
9 mm Alum. base
HB-25

22

25

26

120x50x15
9 mm Alum. base
---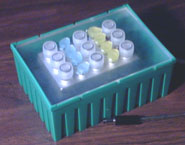 Dry Bath
This compact unit is designed to work with TC-02A or other temperature controllers that have 12-24 V output. Allow keeping small number of microcentrifuge tubes (0.5-2 ml size) above room temperature near your workspace. Two ceramic heating elements attached to the bottom of massive aluminum alloy heating block provide even heat distribution to up to 15-16 vials. (One-two well should be reserved for feedback temperature sensor and thermometer).
Part # DB-1
Specifications:
Max. Temperature 110 oC
Max. Power 25 Watt
Heater resistance 25 Ohm
Dimensions 90x125x50 mm (3.5"x5"x2")
---
Back to the top of the page
Go To Prices
HOME

11-27-19 TC.html