SIGNAL GENERATORS

---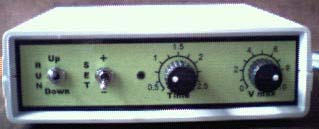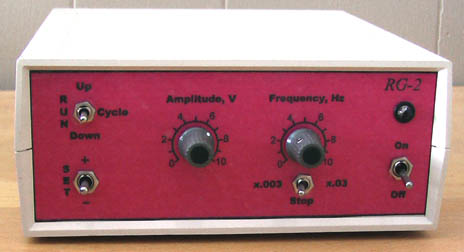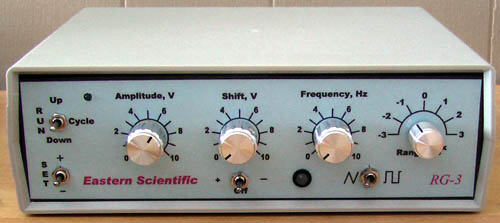 Any serious study of ionic channels require information about channel I/V dependence. We are offering a series of signal generators that are compartible with any electro-physiological amplifier, and simple to operate.
An inexpensive RG-1A ramp generator generate linearly increasing or decreasing voltages. All you need is to set required starting voltage and the rate of voltage change. Than move switch to "Run" position. If necessary you can even stop voltage at any point for several minutes. Coaxial BNC output connector is located on the rear panel. Powered from the external +/- 15V regulated power supply (included).
RG-2 is an improved version of the RG-1 model. Like RG-1 it is designed primarily for electrophysiological studies of membrane I/V dependencies and has all features of RG-1 plus some new. In addition to single runs of linearly increasing or decreasing voltages, it generate repetitive symmetrical triangular or rectangular low frequency pulses. Rear panel have coaxial BNC output connector, switch for selection of triangular or rectangular pulse output, and fuse holder.
RG-3 is the most advanced and universal signal generator for electrophysiological research we are offering. It incorporate all the features of RG-1, RG-2 generators and has some additional features. RG-3 cover wide range of frequencies from 0.001 Hz to 10 kHz in form of triangular or rectangular pulses, and also single voltage ramps. That allow to use RG-3 for linear I/V dependencies in voltage ramp generation mode, for studies of channel insertion potential dependencies in rectangular pulse generation mode, or for membrane capacitance measurements at high frequency triangular pulse mode. RG-3 also allows adding constant potential to the output signal, and has f and 2f synchronization pulse outputs. The combination of these two features make it ideally suited for potentiodynamic studies of a membrane surface potential, and absorption of ions or charged molecules on the membrane.
SPECIFICATION
| | | | |
| --- | --- | --- | --- |
| Parameter | RG-1A | RG-2 | RG-3 |
| Pulse Shape | N/A | Triangular, Rectangular | Triangular, Rectangular, TTL. |
| Single Sweep Duration (s) | 10-100 | 30-150 or 3-150 | 300-30; 30-3; 3-0.3; 0.3-0.03 |
| Oscillation Frequency (Hz) | N/A | 0 - 0.3 or 0 - 0.03 | 0.001-0.01; 0.01-0.1; 0.1-1; 1-10; 10-100; 100-1; 1-10 k |
| Pulse Output voltage (V) | 0 to +/-10 | 0 to +/-10 | 0 to +/-10 |
| Shift Output voltage (V) | N/A | N/A | 0 to +/-7 |
| Max Output voltage (Shift + Pulse) | N/A | N/A | +/-12 |
| Rect. Pulse Front (V/s) * | N/A | 10e6 | 2x10e6 |
| Stop mode potential change (% / min.) | <0.5 | <0.5 | <0.5 |
| Nonlinearity (%) ** | <0.3 | <0.3 | <0.2 |
| Output impedance ( kOhm) | 10 | 10 | 2 |
| TTL Sync. Pulses (mks) | N/A | N/A | <20 |
| Dimensions (mm // inches) | 130x135x40 (5.3"x5.5"x1.5") | 65x160x160 mm (2.5"x 6"x 6") | 150x150x65 6"x6"x2.5" |
| Power | Factory set 110 V or 220 V on request. | Factory set 110 V or 220 V on request. | Factory set 110 V or 220 V on request. |
* - at Vout.max.
** - within 0.005 Hz – 2 kHz

---
Back to the top of the page
Go To Prices
HOME

4-6-2009 RG1-3.html